A permanent magnet generator (PMG) is an important part of the brushless self-excited system for large synchronous machines. It provides 'self-excitation' through the permanent magnets spinning on the rotor shaft of the main machine itself. Thus, no external power supply is required for excitation of the machine.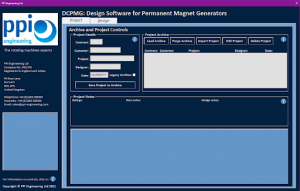 PPI Engineering's in-house software programme for designing PMGs, 'DCPMG', has been undergoing an upgrade. To make the design process for a PMG quicker and easier for the designer, several design parameters have been fixed to standard values. The software will then calculate the remaining parameters from an input set of electrical ratings, optimising performance and overall space envelope.
The software displays all calculated values for geometric, electric and magnetic parameters, as long as entered input parameters result in an acceptable solution. If the calculations result in a parameter being outside of design limits, the software will report back which parameter limit is violated and the reason for the violation. This allows the designer to make an informed design decision on how to rectify the design.
The software is in the final stages of debugging and tidying up before the first complete version is released. This software will streamline the PMG design process, resulting in more time for the Electrical Design Engineers to design large synchronous machines.